"Companies need to focus their Export strategy on Growth markets having a plan for the Bric's is vital"
You are here »
Home Page
»
News
»
American Chamber of Commerce in South Africa (AmCham)
American Chamber of Commerce in South Africa (AmCham)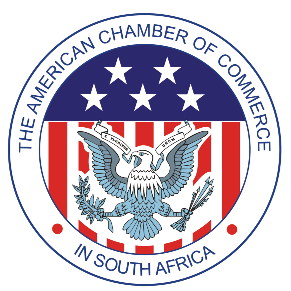 2011-09-08 source http://www.amcham.co.za
THE AMCHAM STORY



AmCham was founded in 1977 as a non-profit association and operates without financial assistance from any government. There are over 105 AmChams operating in 100 countries.

AmCham is the collective voice of US investment in South Africa. Through its elective board of directors and committees it serves as a representative voice for US business and South African/ American commerce and industry.

Its focus remains primarily on US investment in South Africa. AmCham maintains an open dialogue with the SA Government on topical business issues whilst representing the needs of members.

AMCHAM's OBJECTIVES

To establish productive dialogue between the South African government and US business to facilitate growth of US business in SA and thereby the South African economy.

To assist AmCham members by collectively addressing challenging business issues.

To promote an awareness of the issues facing US investors in South Africa and to communicate their viewpoints to the US and South African Governments.

To organise networking forums and workshops that assist members and US business in

general.

To provide relevant and timely information on new legislation that could impact the business operations of members.

To arrange economic and political briefings to provide members with an understanding of local socio-economic needs.

To provide advocacy on a range of issues that confront members.

AMCHAM's SERVICES

A diverse programme of breakfast meetings and seminars with guest speakers addressing topical topics.

Trade missions to SADC and Southern African countries in co-operation with the US Commercial Services.

Information on a variety of trade and business activities through networking meetings with other members and via the Chamber's website.

Briefings for visiting senior company representatives and trade delegations.

Parliamentary information and advocacy services including submissions on legislation impacting on business.

Social events such as the annual Thanksgiving Dinner including the Stars of Africa CSI Awards and the annual golf day.

Advocacy on a range of key issues that confront members in their daily business.

Communications and publications in respect of issues facing South Africa and matters challenging US investment.

Weekly concise economic reports keeping business leaders up to date and pro-actively prepared.

AMCHAM's WORKING FORUMS

All members are welcome to attend and contribute to the work of the Forums, to network and to enhance their knowledge:

Black Economic Empowerment

- conducts seminars and workshops for members, debates current issues and produces guidelines for members.

Health HIV / Aids

- produced the first set of employer guidelines in SA, plus policy directions for members. Hosts workshops and seminars; keeps abreast of current issues for the CEO and HR committees.

Overseas Security Advisory Council (OSAC)

- responsible for business security matters and focuses on all aspects of crime and security as it affects members' interests.

Trade

- meets to overview current and global and Africa trade matters and implications for US/SA relationships.

Good Corporate Citizenship (CSI)

- looks at governance, transparency, triple bottom line and reporting of CSI best practices.

Intellectual Property Enforcement

– aims to work with customs, border police and DTI enforcement authorities to provide training and awareness campaigns, and to address parallel imports and counterfeiting. The Forum will address legislative shortcomings after the new government is in place.

Small Business Forum

– a networking platform for companies with 10 or less employees.

ICT Forum

– address issues and legislation which will impact on the ICT sector.
BricPartner the Business Partner search experts for the Bric region